Request a
Preview
"Emotionally effective in conveying the personal consequences of insider trading..."
- Prudential Insurance Company
"Useful and effective teaching tool...worth the investment..."
- The Gillette Company
To request a preview of any one of the Think Twice video series, please print, complete, scan, and email this form to us at editors@mystockoptions.com (form is in PDF format.)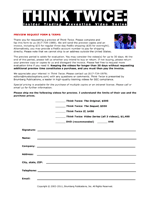 We will send the preview copies and an invoice, including $15 for regular three-day FedEx shipping ($35 for overnight). Alternatively, you may provide a FedEx account number to pay for shipping directly. Please note that we cannot ship to an address outside the United States.
The preview period is solely for evaluation. You may consider the video(s) for up to 30 days. At the end of this period, please tell us whether you intend to buy or return. If not buying, please return your preview copy or copies to us and disregard the invoice. Please feel free to request more evaluation time if you need it. Keeping the videos for longer than 30 days without requesting additional preview time constitutes a purchase, and you must then pay the invoice.
We appreciate your interest in Think Twice. Please contact us (617-734-1979; editors@mystockoptions.com) with any questions or comments. Think Twice is presented by Brumberg Publications, a leader in high-quality training videos for SEC compliance.
Special pricing is available for the purchase of multiple copies or an intranet license. Please call or email us for further information.
THINK TWICE
This popular vintage drama portrays the rules against insider trading and tipping, judgment errors that lead to violations, and the harrowing consequences of an SEC investigation.
THINK TWICE: THE SEQUEL
This gripping contemporary drama shows how SEC Enforcement staff detect and nab insider-trading violators. References the Original but stands on its own. Our top seller.
THINK TWICE II
An SEC Enforcement official explains the insider-trading laws and why violators cannot escape detection. Excellent as a quick rundown or review.
THINK TWICE SERIES
Whether shown separately or in sequence, all three Think Twice videos are effective training tools for communicating the disastrous consequences of insider-trading violations.